Interested in becoming a Member ?
There is no distinction between Male and Female members.
We now have a two tier '6 day' and '7 day' membership.
Membership of Lytham Green Drive brings with it many advantages. Not only do we have a golf course that is second to none but we are proud of our thriving social side unsurpassed anywhere on the Fylde coast.
We have many casual, informal and formal events throughout the year.
Our catering service offers quality and value in a relaxed and comfortable clubhouse and garden area.
Gentlemen
Gents competitions are held on Saturdays with many opportunities each week to improve your handicap.

For those who cannot make the weekends we have many singles 'Mid-Week Medals' or Stableford competitions, usually held on Thursdays.
Seniors
The Senior gents section (over 55's) is particularly vibrant and competitions are held almost every Tuesday of the year and the ways of the world are always 'put right' in the lounge afterwards.
Ladies
New members to our Ladies section are made welcome from the very start of their membership, every effort is made to ensure that they integrate with everyone, whether you are new to golf or not. Group lessons with our new Professional, Simon, have been very popular with Ladies new to the Club.
Our Ladies play most Wednesdays throughout the year, during the winter months there are fun team games and during the playing season there are lots of competitions that culminate in the Lady Captain's weekend in early
September. For Lady 7 day members there are competitions most Saturdays.

Juniors
Boys and Girls are always seen round about our club and again we have a well supported Junior organisation that is the envy of many clubs. Junior events are regular and we insist that discipline and etiquette are adhered to but also that membership must be fun and competitive.

We believe that golf for the younger generation is a good stepping stone for life.
Practice Facilities
Lytham Green Drive offers unbelievable practice facilities.

A huge area exclusively dedicated for Driving and Long Iron play which has a separate marked out yardage facility with umpteen flag positions to improve your practise.

A dedicated par 3 size Green for developing your pitching/short iron technique and bunker play.

This is all separate from the area situated outside the clubhouse that enjoys a contained putting and chipping area.

And of course our qualified Professional is at hand to advise on equipment and give lessons to the novice as well as to the proficient golfer.

Our pièce de résistance is our Indoor Coaching Studio and Members Practice Area - probably the Fylde Coasts most up to date indoor coaching studio.

Incorporating, a wide screen simulator, "V1 Online Academy" high speed cameras, "Foresight Sports GC2" launch monitor and an Indoor Putting Green which will incorporate a "Sam Putt Lab".
Social
Our Clubhouse is used extensively for Weddings, Parties, Funeral Teas etc., and of course the many Social Club Functions that are held throughout the year. The formal, informal and casual functions are well supported and a great convivial evening can be had by all.
Our caterers serve meals throughout the day and will discuss your requirements for private functions and individual requests.
Join the Club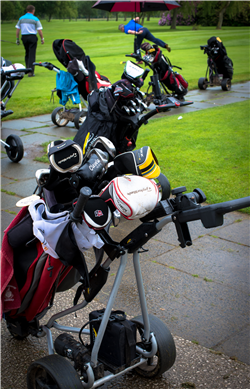 Membership is joining a CLUB, being part of a family, being proud of 'Lytham Green Drive', having a place to feel comfortable and relaxed. Give it a try - you won't regret the decision.
Membership Fees Information
Membership costs are based on age, type and until recently gender but since the equalities act of 2010 we have reconstructed the fees and the types of membership available to both sexes. Here at Lytham Green Drive it is our intention to publish, up front, the costs you will be liable for so there are no expensive shocks when considering to join.
Until the changes are put into print since complying with the aforementioned act please Contact the secretary to get details of all outlays and easy payment schemes available.